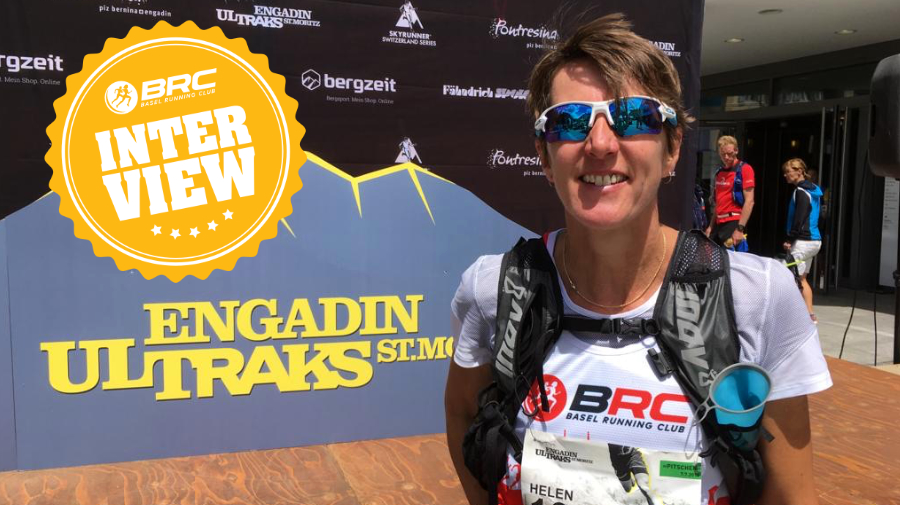 Interview Nr. 14 mit Helen Smethurst
Gefragt von Heather Walden
When and where did you begin running?
I started running at school when I was about 13/14 years old in Manchester. I was more of a sprinter in those days. I played field hockey during and after University but I had to have a knee operation in my 30's so that prevented me from hitting a ball with a stick for a while. I began running again as part of my rehabilitation after the operation. I clearly remember running 1 mile on a creaky old treadmill and thinking I was going to faint with the effort. As my running got stronger I decided to enter a local 10km running race. Much to my astonishment I came third in my first competitive race! I was definitely hooked at that point and decided to start 'chasing the bling'!
Which were your personal highlights in running / at competitions?
There have been so many races and personal highlights but I guess finishing my first marathon in Amsterdam (2001) was one high point. Running on the Championship start at the London marathon the following year and getting a personal best in 3:07:00 quickly followed this.
Please tell me about your goals in running concerning events/runs and/or running times.
As I'm now in my 50's, the days of fast times seem long gone. However, I'm very proud of the times that I have recorded, from the mile up to the marathon, so now I'm content to look at other things to motivate me. Age records motivate me to continue competing as does running events that are a bit different to your traditional road races.
How did you get to the BRC? Why did you join this running club?
Apart from when I first started running I have always been in a running club, sometimes being a member of two clubs at the same time! When I was in the UK I was a member of Belgrave Harriers for about 8 years and also in London Frontrunners (LFR). I'm still a member of LFR (almost 22 years now) but as soon as I moved to Basel I knew I wanted to join a club here. Peter Cooke, Michele, Serena and Edith introduced me to BRC, when I met them on the way to a race.
What do you like most about the BRC?
BRC is so friendly and you can always find someone to run with, whether that is at a club night or during the weekends or at a race. BRC also organize some great training sessions and events, which is a fantastic way to get to know fellow runners.
What's your favorite competition distance and why?
My favorite competition distance is probably the 5km. It is a distance that most people/runners can manage but it is really difficult and tough to race it. When I was living in London there was an organized 5km race in Hyde Park once a month and I ran as many as I could (20+ times). With practice I got my time down to 18:34, which I was very pleased with.
As I both love and hate the distance so much I now organize a monthly 5km event. It takes place on the First Saturday of the Month (FSotM) at the Naturbad in Riehen at 9am. Everyone is welcome whether it is to complete the distance or achieve a time. Contact me if you fancy coming along.
Last year you raced some epic events – 3 marathons in 3 days on the Jurassic Coast of England, to a running event with 3 races in 2 days on the Isle of Wight! Please tell us more about why you have chosen such unusual races and what the experiences taught you as a runner and a person?
The Jurassic Coast Challenge had been on my list of races to do for a while. This part of the coastline of England where the 3 marathons take place is absolutely stunning with some really fantastic geographical and geological features. I studied geology at University and visited these places on field trips so it was the pull of the rocks that made me sign up for the event. The JCC was a tough mental and physical challenge and it taught me lots about myself in terms of not giving up when it gets tough.
The Isle of Wight is equally very interesting because of its rocks but I competed here in order to test myself in the South of England fell running championships. After 3 very hilly races I managed to come first woman in the V50 age category and bagged myself a gold medal.
Tell us more about yourself – when you aren't running up mountains and around Basel, what else do you enjoy doing?
When I'm not running I'm either thinking about running or coaching running. I have built up a portfolio of runners that I coach including some in the UK (I have a England Athletics coaching qualification for endurance running) and it would be great to get more folks in Basel to coach. If you are interested you can check out my website www.runnerwithin.com
What races are on your running "Bucket List"? Any of the big city marathons?
Well I've already run a few big city marathons, London, Berlin, Vienna, Amsterdam and Manchester marathons, so maybe I'd like to tackle some other multiday events rather than running longer distances. I also like the idea of running to inspire and/or raise money for others. In 2017 I ran the Kenya marathon for a small charity called Five Talents. Five Talents raise money to fund small businesses located in remote villages. As part of the trip to Africa we visited these villages to see for ourselves where the money was being used which humbled us all.